First Steps
The first thing you need to do before any project starts: make sure you're solving the right problem. This means asking insightful and sometimes tough questions, and challenging your (often hidden) assumptions.
Your one chance to save money
Once a project is underway it is very difficult to reduce its cost.
More than half of technology projects run over budget by 43%, and poor communication and poor morale can add an estimated additional 20%.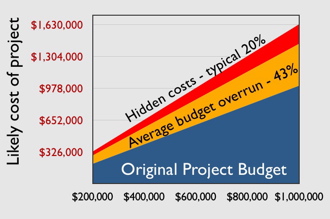 ---
Benefits of Good Design
Successful technology projects do one thing – they enable your organization to change how it operates.
They provide beneficial outcomes because they enable you to become:
more efficient (do the same job faster),
more effective (deliver higher quality), or
innovative (create new/unique products, services or processes)
A successful project is comprehensive yet focused. You need to design your project so it solves a well-understood problem and enables and encourages the specific changes you intend to make.
---
Getting the project foundation right
As a Technology Futures Analyst I will help you and your key team members understand emerging technologies and their potential impact on your organization.
I will work with you in the roles of Solutions Architect and Project Advisor to make sure your projects are built on a solid foundation. You will benefit by being able to:
make informed decisions to solve the specific problem you face
save money by bringing focus to the design and implementation of the project
communicate goals to key participants
understand and manage the impact the project will have on all the stakeholders
choose the best solution for your unique organizational ecosystem
integrate the inevitable changes and challenges that crop up during all projects